---
A message from our founder.
As expressed by our founder, George E. Logue, Sr.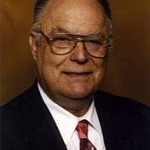 "In my many years of engineering and designing innovative equipment and machinery, I discovered a real need for economical machining and fabricating. As you know, the production of short-run or prototype pieces requires expert knowledge of the principles of engineering throughout the process. One less-than-perfect cut or drill can sometimes mean the difference in successful performance. State-of-the-art equipment dramatically reduces production time and we personally bring each project our interest and know-how.
So when the need arises for your custom pieces, short run items or even limited runs on a continuous basis – and you want it done right, by careful craftsmen give us a call. If you would care to visit my plant, we would be proud to show you our operation. You'll be surprised to see the difference that someone who really cares can make in your final product."
~George E. Logue, Sr. – Outstanding Alumni Award Recipient